Chinese Ritual Nuo Dance Mask – Aboriginal Wall Decor Art by Inherit Master
~ Featuring ~
* 100% Hand Carved & Painted by Award Winning Craft Master *
* Rare Collectible – Aboriginal Wood Craft Art with Deep Asian Ritual Heritage *
* Vivid with Unique Facial Expression - Ideal Wall Décor Art for Rich Oriental Flavor *

Drama Performance for Ritual Ceremony in Southwest China
In the past, people use these masks to perform Nuo Dance for ceremonies purposes. Nuo Dance is a drama performance that can be traced back to Eastern Zhou Dynasty (770 - 256 B.C.). It is a ritual ceremony to pay tribute to Gods and expel the evil spirits. You will find it difficult to see this dance nowadays, except some occasional performance in the areas inhabited by minority groups living in the Southwest China (Guizhou, Hunan, Yunan and Sichuan). These masks are carved in the shape of either amiable or frightening animal along with a legendary figure. In the old time village people believe these masks could keep away the evil spirits and bring them good luck.
In 2006, Chinese government aligned with United Nation UNESCO heritage policy, accredited Chinese Nuo Dance and its Mask an Intangible Cultural Heritage, recognizing its contribution on cultural diversity and human creativity, and safeguarding this human treasure to be kept alive.
"This very rare and aboriginal Nuo dance mask is true to life and has a great facial expression - a rare piece to collect!"

Mask Role: The God of Longevity
Item #: GZHANXMJ123
Measurements: approx. 15 x 27cm
Weight: approx. 450g
Material: Solid Aspen Wood
Processing Time: 2 - 3 weeks
Craftsmanship Level: Master Level



* GENUINE NUO DANCE MASK CRATFED BY INHERITED MASTER, NOT AN IMITATION *

Our Award Winning Craft Master
Our Craft Master Mr. Yang Ding Kuen is in his late 50's. He started his carving career since the age of 24, where his father propagated this very traditional mask carving technique to him. His works has been used in many Chinese musical plays, while earning numerous awards including the Best Prize for Guizhou Province Arts and Crafts Fair in 2006. He is also the committee member of Guizhou Arts and Crafts Association, and has various appearances in TV art programs, including those hosted by China Central Television.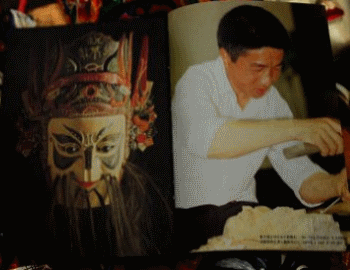 Mr. Yang Ding Kuen in magazine interview




About Chinese Ritual Nuo Dance Drama

Nuo - Sacrificial and Magic Ritual in the Ancient China
Nuo, also called the Nuo sacrifice, or Nuo ceremony, was originally a type of sacrificial and magic ritual in the ancient China, which was held to expel evil spirits and pestilence during the last month of the Chinese lunar year. As it evolved, it became a dance in the form of drama performance.
Mask with Vivid Expressions - Amiable, Frightening to Ferocious
The nuo ritual includes inviting, welcoming, and thanking spirits. After the solemn ritual, nuo drama is performed to entertain the spirits. Masked performers, with whips, dance to the sound of different mysterious tunes. They wear black, white, or red masks, with expressions varying from amiable, frightening to ferocious.
Transformed to Theatrical Performance
With the passing of time, the dance gradually declined and disappeared in China after the Song Dynasty (960-1279), except those ethnic minorities living in remote mountainous areas such as Guizhou, Hunan, Yunnan and Sichuan. Nowadays the dance can only be seen during the Spring Festival, and has been transformed into a theatrical performance for entertainment purposes entertaining local villagers.