Who We Are
We are a master graduated couple from University of London who have been fascinated by the richness and uniqueness of ethnic folk art & craft. One of us comes from the Southwest China while the other has been living in Europe, North America, Hong Kong and China.
What We Want To Achieve
We are proud of and believe it is meaningful to help Ethnic Minorities to preserve and promote their culture. These people are friendly, have passion for life and are very talented - as reflected from these beautiful art works! We wish people of all background from around the world, in addition to guru in arts and crafts, could have a chance to appreciate their talents.
How To Achieve
We find these beautiful handicrafts being sold exclusively in fancy shops in London, New York, Toronto and Tokyo at an expensive price. By having us to travel around ethnic villages in collecting these valuable artworks and sell them directly to you at a reasonable price, apart from earning some income for us, we trust this direct approach is more cost effective in promoting them to you all. We hope this would create a win-win-win for you, us and ethnic minority groups who living in remote villages and mountainous areas.
Hope We Can Contribute
These artworks contain high artistic value and are real treasures - nice pattern design, rich folk colour, inherited technique and excellent craftsmanship. These works, embedded with deep ethnic minorities' historical and cultural contents, are the heritage of mankind. They are in need to preserve and to promote as some of them are dispersing due to the impact of other dominant cultures.
We also believe, to make this world a better place, it is worthwhile for people of different cultures to learn from each other, and that people would understand and appreciate others that are of different backgrounds. It is also important to shorten the economical gap between the ethnic minorities & the majority, and to improve the communication and the exchange of thoughts and ideas between the East and the West.
We hope we can contribute the above and make this business meaningful.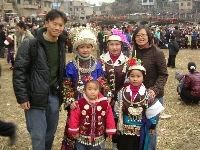 Written by Interact China Co-Founders, Aileen & Norman
December 2004
P.S. We need people with similar passion to join or to partner with us! Please contact Norman or Aileen at interact@interactchina.com to offer your joining or support, or to make any suggestions that you may have in co-operating with us!