Authentic Vintage Costume Tribal Silver Art, 100% Handcrafted Jewelry Art
~ Featuring ~
* 100% Handcrafted by Genuine Ethnic Miao Jewelry Craft Master - 33 years of experience *
* Rare Collectible - Aboriginal Geometric and Motif Designs in its Original Art Form *
* Authentic Tribal Jewelry Art is recognized by United Nation as World Cultural Heritage *

Exquisite Beauty in Genuine Ethnic Jewelry Art
Miao Hmong silver ornament is a real gem in the world of ethnic jewelry. It originated some 2000 years ago, and gradually evolved into a symbol of ethnic aesthetic and art form, where its genuine ethnic design, very fine and exquisite details, and intricate craftsmanship technique making it stunning, unique and remarkable.
From Bracelet to Tiara; From Bird to Phoenix
Miao Hmong jewelry comes in many forms, from large piece sophisticated tiaras and necklaces, to delicate hair sticks, bracelets and earrings. You will also find many vividly carved objects such as bird, flower, butterfly, dragon, horse and phoenix, as a way to express their aesthetic feeling toward natural beauty.
Heritage Treasure in Ethnic Handicraft Arts
Each piece of silver ornament is originally designed and carved by Miao Hmong Silversmith. It requires a series of a rather skill oriented tasks including silver burning, blending, hammering, engraving, cutting, twining, fine detailing and polishing. This inherited technique has been unique to ethnic Miao Hmong, making it a distinct piece of jewelry ornament, as well as a heritage treasure carrying the very best of ethnic handicraft arts.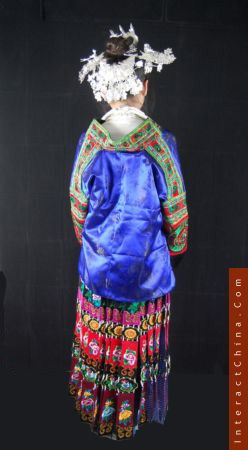 In 2006, Chinese government aligned with United Nation UNESCO heritage policy, accredited Miao Silver Jewelry Art an Intangible Cultural Heritage, recognizing its contribution on cultural diversity and human creativity, and safeguarding this human treasure to be kept alive.
"Genuine Ethnic Handmade Aesthetic – truly stunning, exquisite and remarkable!"

Item Name: Leishan Tiara (Large, 12 hourses) + Horn (Large)
Item Brief: This three dimensional Tiara is truly stunning and exceptional! Its very rich content includes a big multi-layer sunflower located right in the middle front. Surrounding it on both the right and left are dragon, butterfly and flowers, with 12 horses and cavaliers marching toward the center at the ground. The top is further flourished with blossom, plus numerous dangles at the bottom "dancing around", making this tiara looks exceptionally delightful and charming! On top of it is an U shaped horn, which is an abstract imagine of the ox horn representing the spirit of vitality and immortality for ethnic Miao Hmong. You will find two vividly carved dragons chasing a ball, with two smaller phoenixes flying on top.


Item #: GZMIJRYS101LJ
Weight: 800g
Dimension: 60cm L, 30cm W, 85cm H
Material: Miao Silver, alloy of silver and copper
Processing Time: This all handcrafted item requires 7 to 10 days to finish


Electroplated Process: an additional process to improve oxidation resistance, and make the material stronger and shinier. Optional at US$ 40


About Our Craft Master: Our Craft Master Mr. Long Ting Xue has devoted his life in designing and crafting silver ornament for the community for over 33 years. He was born from a long tradition Miao Silversmith family, and is already in their 4th generation in this profession. He treasures his moment in designing and creating nice jewelry ornaments, and keen to promote this art form to anyone. He is preparing to propagate his skill to his son and hoping he will take up his role when retire, as well as keeping this heritage flourish and alive.



* 100% HAND CRAFTED BY OUR GENUINE CRAFT MASTER, NOT AN IMITATION *