How Interact China Began
Norman & Aileen, co-founded Interact China in 2004, are MBA graduates from the University of London, who have been fascinated by the richness and uniqueness of Oriental ethnic arts & crafts. These artworks, containing high artistic value and deep cultural heritage, are mainly handmade by ethnic people living in the mountainous Southwest China. As one of us come from that region, we have an edge to understand their culture, and can communicate well with them to exploit their talents. As we growth, we reached different groups in various provinces including Guizhou, Yunnan, Sichuan, Hunan, Xinjiang and Tibet, covering most major ethnic products in China that worth appreciating and promoting.
Joyful and Meaningful Business
We believe in e-commerce for its ability to reach people worldwide, and built our business via internet since day one. We believe in partnership, and enjoy partnering with ethnic artisans of all sort to minimize transaction cost and maximize their returns. We also enjoy to grow with the community, and offer ethnic people as well as young educated graduates to join our team. We hope we can contribute the community in some way, and make this business joyful and meaningful!
The Pursuit of Aesthetic
By the time most major ethnic goods are being covered, we evolved to include Han Chinese. Although its form of expression and its technique are not the exact same, they both, through their sophisticated hand crafting works, are having the same pursue - Aesthetic (美), and in particular an "Oriental Aesthetic". This aesthetic, in our opinion, can bring joy, excitement and quality living to people's lives, regardless which part of the globe he or she lives. We are enthusiastic about the promotion of it, and are confident that with our years of experience and expertise in both Oriental Aesthetic and E-commerce, we can bridge well the Oriental Aesthetic with the rest of the world.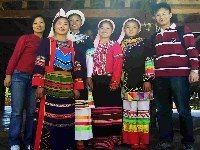 Written by Interact China Co-Founders, Aileen & Norman + Partners
February 2014
P.S. We need people with similar passion to join or to partner with us! Please contact Norman or Aileen at interact@interactchina.com to offer your joining or support, or to make any suggestions that you may have in co-operating with us!