Chinese Ground Opera Mask – Exquisite Wall Decor Art by Inherit Master
~ Featuring ~
*100% Hand Carved & Painted by Award Winning Craft Master inherited in Ground Opera*
*Rare Collectible – Technique & Craftsmanship rooted from 600 Years of Heritage*
*Exquisite, Vivid & Affectionate - Ideal Wall Décor Art for Great Visual Pleasure*
This culturally rich yet very charming mask is a real charm for any home décor / mask lover / collector - it is a genuine Ground Opera Mask (some classified it as Nuo Opera, or Dixi in Chinese), hand carved and painted by our award winning Crafts Master Mr. Yang, who family has been in this tradition for several generations. Ground Opera is considered the living fossil of Chinese Opera Art. It originated some 600 years ago, and still be found in some remote villages in the Southwest China. The focal point of this art form is the mask. It requires exceptional craftsmanship, artistic talent, and years of experience to carve an affectionate and vivid mask, in which to reflect the role's character and its represented spirit.
In 2006, Chinese government aligned with United Nation UNESCO heritage policy, accredited Chinese Ground Opera and its Mask an Intangible Cultural Heritage, recognizing its contribution on cultural diversity and human creativity, and safeguarding this human treasure to be kept alive.
"Exquisite artwork, fine craftsmanship, inherited technique - this mask is no doubt a class of its own!"

Item #: GZHADXMJ107-112
Measurements: approx. 15 x 32cm each
Weight: approx. 600g each
Material: Solid Aspen Wood
Processing Time: 4 - 6 weeks
Craftsmanship Level: Master Level



Mask Role:
1) Li Shimin - Emperor Taizong of Tang
2) Wei Chigong - General
3) Cheng Yaojin - General
4) Qin Shubao - General
5) Luo Cheng - General
6) A Female Warrior


Role Description:
1) Li Shimin ruled Tang Dynasty from 626 to 649 AD. During his reign, Tang flourished economically and militarily, putting Tang the largest nation in the world. A century after his death, Tang still enjoyed peace and prosperity, hence was considered a golden age in Chinese history.
2) Wei Chigong was a famous military man contributed significantly in the establishment of the Tang dynasty. As an important right hand man of Li Shi Min, he was mythically described to guard against many things, including the evil.
3) Cheng Yaojin was an upright and outspoken General who was a backbone member of Li Shimin team. He was awarded Lord of Lu Land (Lu Guogong) due to his excellent commanding skills, and was one of the 24 great statesmen of Lingyan'ge Pavilion.
4) Qin Shubao was a General of the Tang Dynasty. He was exceptionally brave and fierce, and was full of ambition and had high integrity. People later post his image, along with another General Yuchi Jingde, as a symbolic door guards to protect the family.
5) Luo Cheng, one of the eighteen heroes in the novel of Romance of Sui and Tang Dynasty, was well-known for his brave and ferocious. He was good at using spear as his weapon, but was killed yong in his 20's.


The Story: Romance of Sui and Tang Dynasty,written by Zhu Renhuo in the Qing dynasty, is a historical novel about the transition from Sui to Tang. It features many heroes that have distinct characters and legendary stories that were well-known by Chinese people.
* GENUINE GROUND OPERA MASK CRATFED BY INHERITED MASTER, NOT AN IMITATION *

Our Award Winning Craft Master
Our Craft Master Mr. Yang Ding Kuen is in his late 50's. He started his carving career since the age of 24, where his father propagated this very traditional mask carving technique to him. His works has been used in many Chinese musical plays, while earning numerous awards including the Best Prize for Guizhou Province Arts and Crafts Fair in 2006. He is also the committee member of Guizhou Arts and Crafts Association, and has various appearances in TV art programs, including those hosted by China Central Television.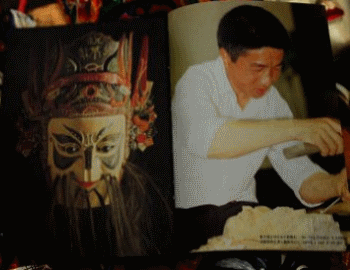 Mr. Yang Ding Kuen in magazine interview



Ground Opera Mask Production Process
1) Select good quality Aspen wood that are of right curve, size and shape
2) Carve initially for the overall shape
3) Carve sophisticatedly for exquisite details
4) Conduct high temp process for wood hardening
5) Polish wood surface for multi-layer colorings
6) Paint several base colors as main theme. Dry naturally for second layer coloring
7) Paint artistically for overall expression. Dry naturally for third layer coloring
8) Paint exquisitely for fine details. Dry naturally for polishing and waxing
9) Polish the mask surface for final waxing
10) Wax the mask for sharp, long lasting effect and wood protection.



About Chinese Ground Opera

Originated from the Ming Dynasty 600 Years Ago
Ground Opera (some classified it as Nuo Opera, or Dixi in Chinese) originated sometime between 1368 and 1398 during the reign of Ming Dynasty. When Ming expanded its territories, estimated 200,000+ armed forces relocated from Central China to the Southwest Frontier. They stationed in remote mountainous 'Tun Pu' (Tun Pu means fortress in Chinese) and brought along the Ground Opera with them. It was played for both entertainment and army practicing purposes, and could be performed in any open grounds. (hence called "Ground" Opera).
Theatrical Costumes + Vivid Masks + Orchestral Music + Fictions
During the performance, actors are dressed up in theatrical costumes and wear masks on the forehead with a piece of black gauze to cover the face. Warriors will wear chicken feather on the head and small flags on the back. The performance is accompanied by orchestral music and percussions, and its storyline is mostly related to historical fictions.
The "Living Fossil" of the Opera Art
The traditional Ground Opera that originated from Ming dynasty has been lost except those kept by the villagers living in "Tun Pu" villages. This is due to the geographical isolation and hence they are able to preserve it. Nowadays there are only a few "Tun Pu" villages left and people living there are in their 22nd generations. They continue to perform Ground Opera during the harvest season and the Chinese New Year as a sign of rich and prosperous life. Ground Opera mask is a popular collected item by art research institutes and museums in many countries, including Britain, United States, France, Germany and Japan.